1 Card Connection
the multi-functional card at your service!
BOUNTY BUCKS EXPANSION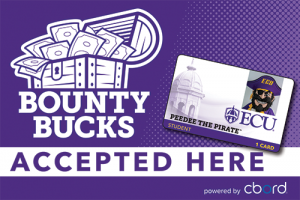 "Bounty Bucks" is one of the spending accounts that can be set up to work with the ECU 1 Card. Once funds are deposited into a Bounty Bucks account, it is used like a debit or declining balance account. You can view each of your account balances on the GET site or GET mobile app, including the Bounty Bucks account.
Click here for list of locations where Bounty Bucks are accepted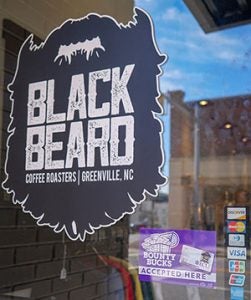 The Bounty Bucks account is managed by the ECU 1 Card Office and may be used at many on-campus locations as well as some participating off-campus, uptown Greenville merchants
. Look for the "Bounty Bucks Accepted Here" window decal at numerous merchants.
Campus Vending now accepting Bounty Bucks! At this writing, 19 campus snack vending machines also accept the Bounty Bucks account, with more machines planned for upgrades in the future. Click here for a list of vending machines where Bounty Bucks are accepted.
Adding funds to the Bounty Bucks account is easy! Visit the ECU 1 Card office located in G-521 Old Cafeteria Complex, or 224 Health Sciences Student Center office, or add funds online using the GET app to add Bounty Bucks. There is a minimum deposit of $20. Cash, check or debit & credit card are accepted in the 1 Card office.
Additional funds may be deposited at any time. This account rolls over from semester to semester, but you cannot transfer funds from other accounts to the Bounty Bucks account.
REMEMBER TO USE YOUR BOOKSTORE OR FINANCIAL AID ACCOUNT FOR YOUR COURSE NEEDS
As you're finishing up the fall semester, don't forget that you may still have money in your Financial Aid or Bookstore Account on your 1 Card.  These declining balance accounts can be used on any school supplies, technology, textbooks, study guides and more!
You can view your account balance on the GET site.  Financial Aid funds will be returned to you during the semester, but Bookstore Account funds roll over.
FOOD FOR THOUGHT
When you use your ECU 1 Card in campus dining spots, your declining balance accounts "trickle down" from one account to another. For example, if you have Gold Bucks and Bounty Bucks and swipe your 1 Card at the dining register, funds will pull first from your Gold Bucks account. If insufficient funds are available, it will pull from you're your Bounty Bucks account. Viola! You're all set! Bon Appetit!
You can check your account balances online through the GET web site or Pirate Port.