Upload your 1 Card Photo
You are able to upload your own photo for the new ECU 1 Card. Please follow the instructions below to complete the photo upload process.
Note: if you have an immediate need for your ECU 1 Card, such as it has been lost or stolen, please see the Replacement Card web page for instructions.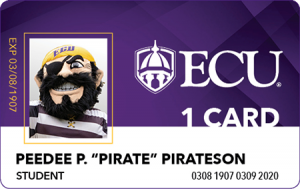 STEP ONE: Sign in with your Pirate Id and Passphrase
You will receive a link once you apply for your 1 Card. Sign in with your Pirate Id and passphrase.

STEP TWO:  Accept Terms
Accept the Terms and Conditions on the first page to proceed.

STEP THREE:  Upload Your Photo
Select your photo or take your photo on your smart phone to upload. Your photo will need to be on a solid white background, looking straight into the camera. It must be solid white, like a wall. Please ensure there are no objects or other people/pets in the background.  [check here for some examples of right & wrong photos!]

STEP FOUR: Upload Your Government Id
Select your photo of your government id such as a driver's license, passport, military id or state identification card.

STEP FIVE:  Submit
Select Submit & Sign out and the application will close, bringing you to the 1 Card website.

You will receive a confirmation email stating that your photo is being reviewed and you will be contacted when your card is ready for pickup.
If you have problems or need assistance, please contact the ECU 1 Card office, (252) 328-2673 or email 1card@ecu.edu.   Click here for more information.